The task of planning a funeral for a loved one can be quite daunting. It is a difficult task that needs to be done during a sad and emotional time.  A funeral, memorial or celebration of life service gives family, friends and guests the opportunity to gather and honour your loved one. As you start to plan the service, stop to reflect about your loved one, think about their personality, what made them so special and remember the memories you will forever cherish.
Funerals are about saying farewell. It allows everyone who loved, knew and had a connection with your loved one to gather and pay tribute.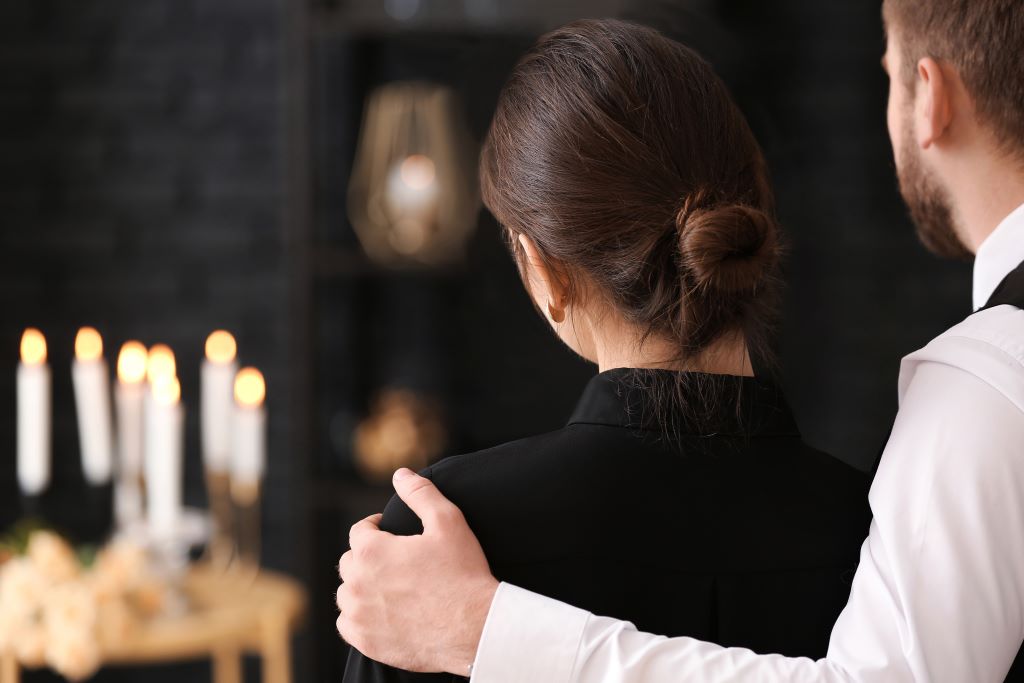 There are many things to consider when planning a funeral. This checklist is designed to guide you through some of the decisions that will need to be made in the lead-up to the service.
Decisions To Be Made
Burial or cremation?
An option may have been expressed by your loved one before they departed in either a will or maybe verbally discussed with a family member.  The choice between burial and cremation is deeply personal and one that should be respectful of the deceased's memory.
Choosing a funeral director
This may have already been decided on by your loved one with a pre-paid funeral plan arrangement. If not, you may decide on a funeral home that is close and convenient, or one that was recommended to you. When looking for a funeral director, compare prices, ensure that they offer the services you need, and they are happy to work with you in creating the farewell your loved one deserves.
Selecting a venue or location 
Ultimately, it is important to choose a location that you feel will offer a suitable setting and will reflect your loved one's life.
Locations to consider may be:
Place of worship – This location can be very important if the departed has religious beliefs or faith.
Chapel. – Either at the funeral home, cemetery or crematorium. This may be dependant on the number of family, friends and guests attending.
Graveside – The service is conducted in its entirety at the grave site. This can allow for a smaller and more private farewell.
Public space – Such as a park or beach. This would be suitable for a celebration of life or memorial service, or as a gathering area after the formal service has finished.
Time and date – This is a personal choice. When choosing a time and date many factors need to be considered. For example, the time needed to prepare the service, allowing time for family and friends to travel from afar, or cultural or faith beliefs.
What style of service
The type of funeral or memorial service will largely depend on the tone you would like to set for the service. You may choose to have a more formal service, one to reflect the departed's religious beliefs or faith, or one that is more in tone of celebrating their life.
Whatever style is decided it should reflect your loved one's unique life.
There are many types of funeral service options to choose from. These include, but are not limited to a:
Traditional Funeral – is a full-service funeral and begins with a ceremony which is held at a church or chapel. The Traditional service is performed by a member of the church clergy or by a special celebrant. On completion of the service family and selected guests may then go to the graveside for the final committal.
Direct Burial – This involves a direct burial without a funeral service.  Family can choose to attend the committal or instead, just have a memorial or celebration of life service in loving tribute.  Direct burials tend to be brief services.
Graveside Service – Can be held after a funeral service with a small number of guests as the departed is laid to rest in their final resting place. It may also be a brief service held at the cemetery with no service elsewhere. This type of funeral may be appropriate for families who have a family plot or deep family tradition.
Memorial Service – This type of service is typically held after the burial or cremation. It is hosted by the family or close community to acknowledge the death of someone important in their lives. It is a beautiful way to honour, pay tribute and reminisce a loved one.
Celebration Of Life Service – The focus of this service is to celebrate the life of the departed and tends to be a more uplifting occasion. Dress attire is generally more casual, and it is less structured than a memorial service. A celebration of life service may be held anywhere, and it focuses more on the deceased's unique personality and the joy they bought to everyone.
Once a decision has been made on burial or cremation you may need to arrange:
If burial is chosen;
If one has not been pre-arranged, a decision will need to be made on a burial plot in a chosen cemetery.
What will your loved one wear and will any jewellery be left with the body.
The type of coffin or casket. There are many different styles and colours available. They range from the traditional hardwood, MDF, and now environmentally friendly woven and cardboard caskets.  Your funeral director can help you source and arrange this.
Sometime after the funeral, you will need to choose a suitable monument for the gravesite.
If cremation is decided;
You will need to choose where the ashes are to be placed. This may be:
In a lawn cemetery or rose garden.
Wall niche.
Kept in the family home – You may choose to keep all the remains in a beautiful urn. Or, if the ashes are to be placed elsewhere or scattered you may like to consider keeping a small amount of cremation ash in a keepsake urn. 
Scattered – This may be a special place that holds many memories, or is scattered at sea.
The look and feel of funeral services today is changing.  Families are wanting more involvement and they are wanting the service to be more about the person, especially by being creative and adding personal touches.  Read our Blog – Personalise A Service – for ideas on how to say farewell.